Released June 2012, Updated May 2013 | by Tim Sommer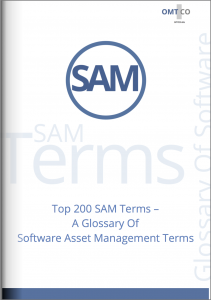 Content
Executive Summary
Glossary Of SAM Terms
Executive Summary
This glossary explains terms and abbreviations used by licensing professionals in Software Asset Management (SAM). It will help you to understand the meanings behind current, and former, Software Asset Management (SAM) terms and licensing vocabulary.
This report is aimed at those in management (with little experience in licensing) faced with the challenges of Software Asset Management. It may also help software asset managers and licensing experts convey information to their management.
The glossary presents over 200 SAM and licensing terms:
Terms related to Software Asset Management (SAM). SAM refers to the organization, processes, data and tools used to manage the life-cycle of software assets. The standard ISO/IEC 19770-1:2012 and the Infrastructure Library ITIL set a framework for SAM. SAM tools – supplemented by discovery tools – generate data and support SAM processes.
Terms related to licenses (commercial data). The Effective License Position (ELP) maximizes customers' license estates. Software vendors differentiate base licenses from maintenance or trade-ups, and term such as perpetual or fixed term licenses (FTL), licensing metrics, etc. Licenses may be purchased in bundle packages (software bundles) or in license packs.
Terms related to deployments (technical data). Deployments (installations) on infrastructure – servers and client devices – create the technical usage, which is subsequently used to calculate the license demand by applying metrics to hardware attributes or users. Hardware metrics take into account hardware attributes. User metrics, such as Authorized User or Floating User, take into account users and sometimes their roles.
Terms related to compliance audits. During a compliance audit, software vendors assess software license compliance. The compliance balance shows customers' over-compliance (unnecessary assets) and incompliance (over-deployment) positions. The audit settlement is comprised of an audit relief and a settlement amount (settlement licenses).
Should you have any questions, please contact OMTCO; contact details are listed at the end of this report. For those executives interested in sharing their thoughts on Software Asset Management and software license management, we highly welcome your feedback and comments.
Glossary Of SAM Terms
Agent | Software installed on a device to retrieve data, such as attribute or relationship data, and to be provided to a server installation. Examples: IBM Tivoli Asset Discovery for Distributed (TAD4D) is a software discovery tool with a server installation gathering installation data, hardware attributes and cluster/host relationships from its agents. The agents are installed on each server (hardware or virtual) to be monitored.
Annual License | License with software product-use rights limited to a period of one year, starting on the day of purchase. You may not use the software product afterwards, unless you prolong the license contract. Examples: Oracle Fixed Term License (FTL) with term of 1, 2, 3, 4 or 5 years. IBM Fixed Term License (FTL) with a regular duration of 12 months. Any subsequent period (prolongation of the license) may be submitted to different pricing than the initial period.
Application | Software program or group of software programs designed for end users.
Application Virtualization | Packaging of applications into units isolated from other applications as well as from host operating systems and computers. Application virtualization comprises Remote Desktop Services (RDS) and Desktop Virtualization. Application virtualization bears great licensing pitfalls mainly because both, the application virtualization software and the virtualized applications must be correctly licensed.
Assessment (SAM Self-Assessment) | The measurement and judgment of an organization's Software Asset Management (SAM) maturity, frequently measured against established standards such as ISO/IEC 19770-1:2012 or a best practices framework such as the Information Technology Infrastructure Library (ITIL) 2011.
Asset | Item of value owned by an individual or company. In SAM, we often speak of a license asset (covering only the purchased licenses, including maintenance, trade-ups , etc.) and software assets (covering both, licenses and deployments).
Asset base | The assets (licenses and deployments) and infrastructure subject to the processes of Software Asset Management (SAM) or Information Technology Asset Management (ITAM).
Assignment | Software vendors require that licenses are assigned to one device or one user, preventing sharing a license across more than one device or one user, and restricting transfers of licenses. Example: Microsoft volume licenses must be assigned to a device/user/server etc. (depending on the license metric) before installing/using or accesing the software, whereas reassignment may be restricted (refer to the 90-day rule and to license mobility). Microsoft Full Packaged Product (FPP) licenses do not require a license assignment. Microsoft Original Equipment Manufacturer (OEM) and System Builder (SB) licenses are assigned to the device enduringly (Microsoft licensing terms forbid to reassign those licenses).
Attribute | Descriptor of a software or hardware asset or configuration item. Typical hardware attributes are number of processors, of cores, processor type, etc.
Audit (Compliance Audit, Compliance Verification) | A verification of the licensing compliance and incompliance positions of a customer. The audit may be initiated by a software vendor and conducted by internal, such as group audit services, internal license management, and/or external parties, such as an auditor (e.g. Deloitte, KPMG). Compliance audits drive for the discovery of any unlicensed software and may result in subsequent compensation payments (penalty) and the enforcement of purchase of supplementary settlement licenses.
Audit Relief | Part of the audit settlement agreement, in which a vendor agrees not to pursue the customer for the incompliance reported in the audit. Customers should note that only the past history of reported installations is relieved, hence any (future) additional incompliance and any (past and future) non-reported usage can be audited anytime and pursued by the vendor. The audit relief is usually obtained by means of compensation payments and purchase of settlement licenses.
Authorization | Completion of a customer's registration process. At this point in time the product – and its components and extensions – have been installed and registered and an authorization file (key) has been sent to the customer.
Authorized User | Unit of measure by which a software can be licensed (in the metric Authorized User). An Authorized User is a unique person who is given access to the software, whereas the access may not actually take place (potential access). Each Authorized User may have simultaneous access to any number of instances of the Program at one time, on any device. However, the licensing of software per Authorized User may impose supplementary restrictions, such as a limitation of the number of devices or the prohibition to receive remote access to the software (for instance, per Terminal Server). Further restrictions create further metrics, such as IBM Authorized User Value Unit (AUVU) (differentiation in pricing depending on the type and number of users), Concurrent Users (restriction on time), Floating Users (restriction on time and instance).
Base License | An original license contract upon which further license contracts, such as maintenance, reinstatements, migrations and trade-ups, are based. A base license is necessary as proof of license (also called Proof of Entitlement (PoE)). Maintenance, reinstatements or any product or metric migration are worthless without a base license.
Base License Agreement | Standard agreement that software customers accept when they download, install, or purchase any software product. For example, IBM base agreements are, most often, the International Program License Agreement (IPLA), which applies to warranted IBM programs. Other base agreements, such as the International License Agreement for Non-Warranted Programs (ILAN), the International License Agreement for Evaluation of Programs (ILAE) or the International License Agreement for Early Release of Programs (ILAR), are seldom used. The base agreements, the relevant Licensing Information (LI) and Program Announcement Letter (PLETs), and the current price list at time of purchase, represent the complete licensing picture of a specific product/edition/version. Base agreements contain important licensing restrictions applicable to all products. Oracle base agreement used to be the Oracle License and Services Agreement (OLSA) – but was replaced in January 2013 by the Oracle Master Agreement (OMA).
Baseline (BL) | Point of reference for companies' devices, infrastructure or network configuration, used for future discrepancy reporting and gap analysis. For instance, the Base Line of the Compliance Balance is the collection of all incompliance positions before restructuring installations and infrastructure. As to IBM licensing: Lowest price in Passport Advantage, slightly lower than the price in Passport Advantage Express. Customers who were enrolled in the Passport Advantage Program at a Level A, B or C before 2003 now purchase at BL level (therefore IBM price levels A, B and C do not exist any more). BL does not require any points. Price levels with higher discount levels are: D, E, F, G, H, I and J for corporates or EDU/GOV for area of education and governments.
Batching | A term in licensing related to databases which comprises the automated processing of jobs, usually at scheduled times (if automated batching) or triggered by a user (if manual batching). Oracle Database does not require supplementary licenses for data batching in the Processor metric, and requires in the Named User Plus (NUP) metric supplementary users for manual batching (automatic batching is included).
Bundle Package (Software Bundle) | A collection of individually orderable components or products combined into a single offering, sometimes for promotional purposes, often for technical reasons, e.g. when particular software needs other software to operate. Bundles are important to identify as the bundle must not be licensed individually (saves costs for new licenses), but use restrictions must be abided by. IBM publishes bundles – and their restricted rights in Program Announcement Letters (PLETs) and Licensing Information Documents (LIs). For instance, IBM Tivoli Asset Discovery for Distributed Version 7.5.0.10 (available since 2012) comprises in bundle, and subject to restricted use, IBM DB2 Enterprise Server Edition Version 9.7 (DB2 Restricted Enterprise Server Edition) and WebSphere Application Server v7.0. IBM Tivoli Netcool/OMNIbus Base Install v7.3.1 (available since 2011) comprises in bundle: IBM Tivoli Monitoring Version 6.2.2, IBM Tivoli Netcool/Impact Version 5.1.1, eWAS (embedded version of IBM WebSphere Application Server) 7.0, IBM DB2 Workgroup Server Edition Version 9.7, IBM DB2 Enterprise Server Edition Version 9.7.
Capacity-Based Metric | IBM Metric as of which hardware attributes are taken into account for the purpose of licensing. Since July 2006 the main capacity-based unit is the Processor Value Unit (PVU). Examples of capacity-based metrics: installation, hardware processing power or speed, Processor Value Unit (PVU), Resource Value Unit (RVU/PVU) based on PVU.
Central Processing Unit (CPU) | Hardware within a computer carrying out the instructions of a computer program by performing the system's basic arithmetical, logical, and input/output operations. Also a licensing metric, the CPU metric, based on the number of processors. The CPU metric is a legacy IBM metric, converted mandatorily since July 2006 to PVU.
Certificate Of Authenticity (COA) | Pre-installed Microsoft Windows OS require system builders to affix the COA label on the PC chassis. The COA label displays the name of the software purchased and the product key needed to reinstall the OS. Note that a COA is not a software license – the software license is purchased and documented by a COA on the hardware chassis, a hologram media (DVD), the documentation (manuals), and the software license terms (to be found within the software).
Client Device (Client, Workstation, Client Computer) | Client devices are typically running a desktop OS, but may also run a server OS. Client devices are typically used by individuals for their own need, such as a workstation or client computer.
Client Access License (CAL) | A license that gives a user the right to access the services of a server. CALs are primarily used for Microsoft Server products with a server/client licensing model. IBM differentiates its CAL concept from Microsoft's: an IBM CAL is the license related to a local installation and comprising the right to access the server software. Example: For Lotus Notes, each Proof of Entitlement (PoE), for each unique individual accessing the Program, includes a CAL providing the individual the right to connect and interact with an IBM Lotus Domino Server.
Client Operating System Environment (Client OSE) | Operating System Environment, "OSE running a client operating system" (Microsoft PUR).
Client-Server Architecture | A network architecture in which each computer or process on the network is either a client or a server. Servers are powerful computers or processes dedicated to managing disk drives (file servers), printers (print servers), or network traffic (network servers). Clients are PCs or workstations on which users run applications. Clients rely on servers for resources, such as files, devices, or processing power. Many professional software may have a dual structure, a server installation and clients installations. In licensing the duality client-server bears pitfalls as usually the server part and the client part of the software must both be licensed. Examples: Microsoft server license + CAL or Connector. IBM server installation + client installation (for example, Domino server licensed per PVU, and Lotus Notes licensed per Authorized User metric, such as CALs).
Client Software (Client Product, Client) | Client software is an application typically running on a desktop OS, installed usually on a client computer (workstation, personal computer) and seldom on a server. Client software may be standalone or part of a dual installation server/client.
Cloud (Cloud Computing, Virtual Cluster) | IT resources are provided on the basis of virtualization, thereby encompassing on-demand infrastructure (CPU, storage, networks etc.) and on-demand software (operating systems, applications, middleware, development tools etc.), dynamically adapted to the respective demands of companies´ IT processes. Cloud computing is recognized by software vendors on a very restrictive basis, especially due to the fact the inherent advantages of a cloud is contrary to usual licensing restrictions, such as assignment to a specific hardware, geography or allocation of hardware capacity (CPU power). For example, Oracle recognizes their own technology Exalogic Elastic Cloud for Oracle Databases and Oracle Technology products.
Commercial Data | Entitlements (licenses, maintenance, trade-ups, product migration, metric migration, etc.) and customer agreements (enterprise agreements, product bundle agreements). Entitlements give customers the right to use software products of a determined edition, version, quantity, and either perpetually or for a limited period of time, with certain restrictions. Examples of customer agreements usually without use rights: IBM (i)ESSO (International Enterprise Software and Services Option) agreements, Microsoft Enterprise Agreement. Examples of customer agreements with use rights: agreements containing an exhibit with licenses, such as Oracle Unlimited License Agreement (ULA), IBM (i)ESSO (only, if signed after an audit and containing settlement licenses), IBM CEO Option (often for Lotus or Cognos).
Compliance (Software License Compliance) | Legal usage of deployed software products complying with legal requirements with regard to software usage. Or, in licensing terms: License Demand (LD) deriving from the deployments is covered by the Effective License Position (ELP) deriving from the license assets.
Concurrent User (Concurrent Licensing) | Concurrent Licensing imposes a limitation on the number of users at any time. Concurrent User is a unit of measure by which a software can be licensed (in the metric Concurrent User). The Concurrent User metric is the restriction with a time component of the Authorized User metric.
Configuration | Internal arrangement and interconnection of an asset, or an information technology service or system. The configuration is crucial in licensing as it may impact license demand by applying the configuration to the metrics of deployed software.
Configuration Item (CI) | Information about each configuration item is recorded in a CI record in the CMDB and is maintained throughout its life cycle. CIs typically include hardware, software, buildings/geography, users and formal documentation such as process documentation and service level agreements.
Configuration Management Database (CMDB) | Represents the authorized configuration of the significant components of an organization´s IT environment, helping to understand the relationship between these components and track their configuration. The CMDB records CIs and details about important attributes and relationships between CIs. The CMDB is an important source of information used in licensing, however may pose some issues as the life cycle of data in the CMDB may not be synchronized correctly with the life cycle of IT items.
Configuration Management System (CMS) | Collection of tools and databases covering configuration management processes. Often the CMS and the CMDB are synchronized.
Contract (Software Contract, Software License Agreement (SLA)) | Legally binding agreement stipulating the rights and responsibilities of both a software vendor and a customer.
Contract Management | Supervision that involves the recording, tracking and reporting of your license contract details (including your owners, overall terms, conditions and rights, start and end of maintenance, etc.).
Copyright Ownership | Possession of copyright for a software product. In a typical licensing agreement, you do not buy a software (copyright ownership), but you acquire the right to use it (license to use with restrictions).
Core | Processor, microprocessor or sub-component of a processor. Many vendors (such as Oracle and IBM) still use the word processor meaning processor-core.
Core-Based License (Core-Based Metric) | Unit of measure by which a software may be licensed (a metric). Examples: the IBM Processor Value Unit (PVU) is a core-based metric, taking into account