OMTCO has licensing expertise at its disposal, in addition to extensive experience in Software Asset Management, compliance reviews and customer-sided counter-audits. Should you have any questions or comments, please contact your OMTCO representative.
In the meantime, please feel free to read OMTCO's informative reports and IBM licensing documentation: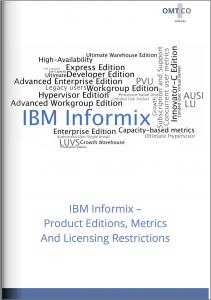 IBM Informix – Product Editions, Metrics And Licensing Restrictions
Released October 2013 | by Tim Sommer
This report is aimed at those in licensing and IT leadership with a background or interest in IBM Informix product licensing. The report shows how Informix products are licensed, as well as detailing metrics and product and licensing restrictions.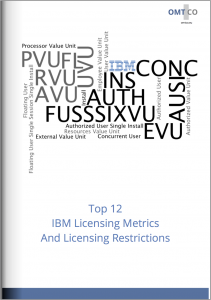 Top 12 IBM Licensing Metrics And Licensing Restrictions
Released March 2013 | by Tim Sommer
The report analyses IBM's twelve most common licensing metrics and their associated licensing restrictions. We give valuable advice and direction to IBM customers on how to deal with the challenges of IBM's product diversity and complex licensing.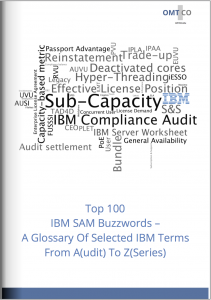 Top 100 IBM SAM Buzzwords – A Glossary Of Selected IBM Terms From A(udit) To Z(series)
Released June 2012, Updated February 2013 | by Andreas Burghardt
This glossary is aimed at those in Software licensing and Software Asset Management with a strong background and interest in IBM product licensing.
This glossary dispels the mystery that surrounds IBM's SAM terms and licensing vocabulary. It will help you to understand auditors' buzzwords, ultimately making you sound like an expert.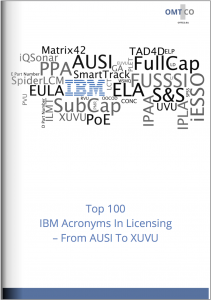 Top 100 IBM Acronyms In Licensing – From AUSI To XUVU
Released July 2012, Updated October 2012/February 2013 | by Johannes Balzer
This list of IBM acronyms will render comprehensible IBM's licensing documents and auditors' communication. It will help you to understand vendor's and auditors' vocabulary – from AUSI to XUVU!
This document is current as of the initial date of publication and may be changed by OMTCO at any time. Not all offerings are available in every country in which OMTCO operates. THE INFORMATION IN THIS DOCUMENT IS PROVIDED "AS IS" WITHOUT ANY WARRANTY, EXPRESS OR IMPLIED, INCLUDING NO WARRANTIES OF MERCHANTABILITY, FITNESS FOR A PARTICULAR PURPOSE AND ANY WARRANTY OR CONDITION OF NON-INFRINGEMENT. This report is for information and illustration purposes only. It is not an advisory document and does not take into account your specific customer situation. Please refer to the disclaimer published at http://omtco.eu/disclaimer.