OMTCO's personnel have been supporting major clients – market leaders, mid-sized enterprises and global players – for the last 15 years.
Below, you will find a selection of OMTCO references, i.e. client-anonymized excerpts of our work.
Should you wish to learn more about our work involving other activities and vendors (Adobe, CA, Citrix, Attachmate, INFOR Global Solutions, Informatica, Red Hat, SAP, Sybase, VMWare, etc.) please contact OMTCO or call your OMTCO representative directly.
Portfolio
For your convenience, we have structured our portfolio of references under:
Activities: SAM (Software Asset Management) – Licensing – Counter-Audit
Vendors: Oracle – IBM – Microsoft – All Vendors
Click in the menu above to consult a particular reference.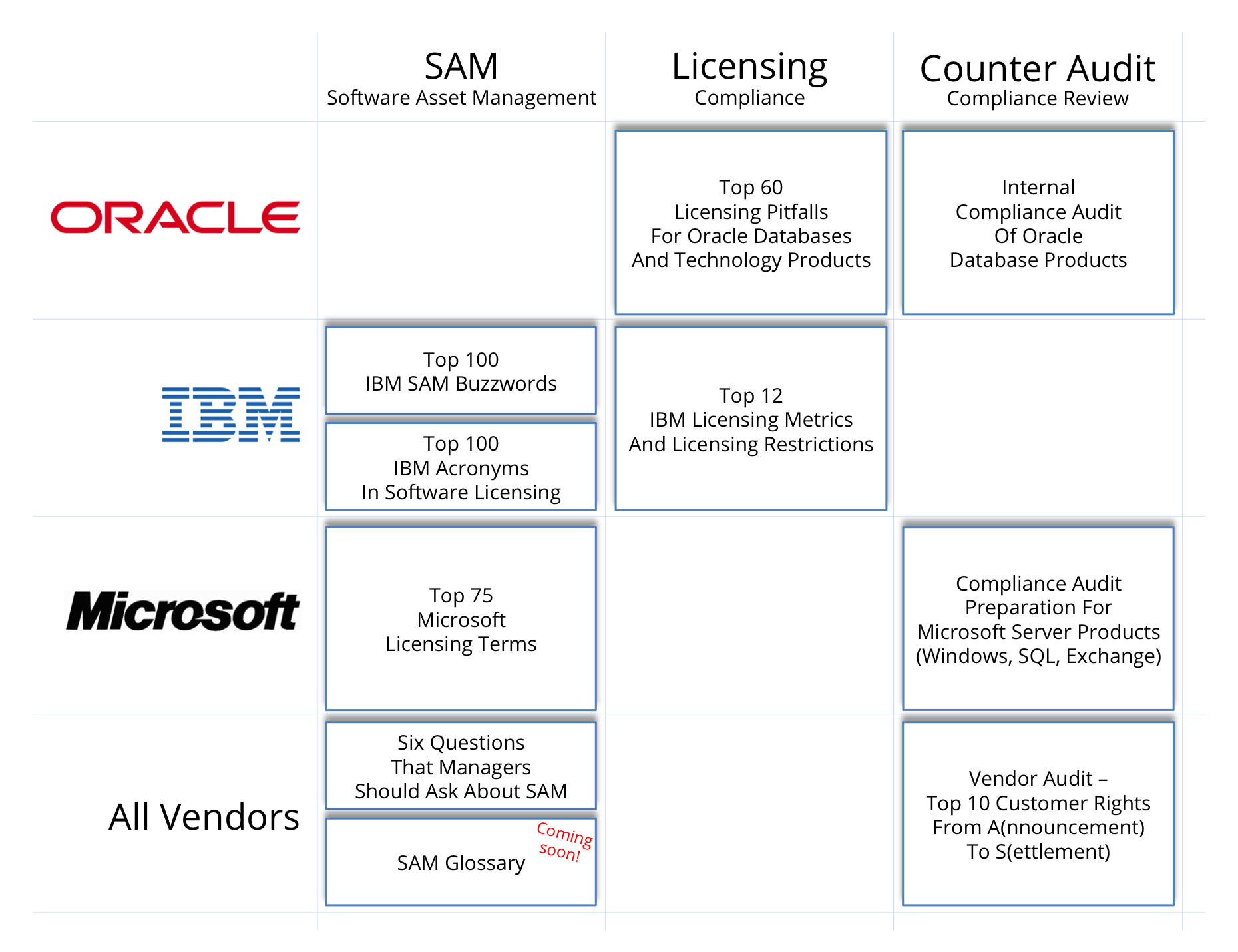 Trust
Acceptance and trust are fundamental for our clients and for our conjoint success – thus, we refrain from publishing our clients' references and testimonials.
OMTCO does not disclose clients' names, client projects or data. The case study and data published in our website is generic and derived from years of compliance reviews. All analysis presented and information disclosed are exclusively based on public information. Should you wish to learn more about our confidentiality practice or about this case study, please contact an OMTCO representative.
Nevertheless, selected clients are willing to confidentially testify to our value. Should you wish to take advantage of OMTCO´s comprehensive expertise, please contact your OMTCO representative. We will be pleased to:
advise how to tackle your challenges, and apply our experience to your specific situation;
provide you with detailed information about our range of services;
give explanations on reference projects (always client-anonymized); and
set up direct contact with our clients and their testimonials.
In the meantime, you may find selected anonymous references and publications of our work above.
Let us work together to tackle your issues and establish sustainability. We are at your service!